According to the Online Etymology Dictionary, the word 'train' means a railway engine and the carriages attached to it. This meaning dates from 1820, but more relevant to us is the original meaning from the 15th century, where train meant "to discipline, teach, bring to a desired state by means of instruction".
Fast forward six centuries, and the original meaning of training remains – gaining "discipline and instruction to develop powers or skills".
Email Updates: As part of the 10X service, we provide a regular email update to keep you abreast of new ideas and developments that may be of interest to you and your business.
Training – a key to developing a winning team!
Many businesses, from those employing just two people, through to larger organisations / non-profits / corporates employing thousands, struggle with the ongoing development of their team member's skill sets and attitudes. This means it's difficult for the business to create an unshakeable culture of peak performance and team - a culture where the team are driving the business just as much as the business owner or senior execs or leadership team.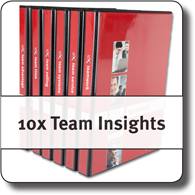 10X Insights, Facilitated Monthly Training
This 10X program is facilitated once per month for 90 minutes by an expert, accredited 10X Business Coach working with your nominated team. It is appropriate for all levels of team members, from senior and management team members through to front line workers.
Team members who attend this program move through a variety of key business topics where they learn to gain a far greater understanding of the whole business and their role in that bigger picture. They become better educated staff as a result, able to see beyond their own role to the holistic needs of the company and customer base.
Further, this program is 'active' – it's not about 'talking heads', it's about getting stuff done! To achieve this, team members at each session will identify projects and actions to take to help them improve one or more of the following:
The area of the business being discussed
Their area and role
An agreed aspect of the business that needs attention
As a result, 10X Team Insights is more than just training or education. It's about:
Adding resources – arms and legs, minds and hearts - to the total business improvement
Creating a team culture; one where everyone is aware of the larger business needs, works together, supportively and cooperatively pulling in the same direction.
Frankly, 10X Team Insights is an amazing program and a great opportunity!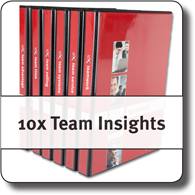 DIY 10X Insights
You may already have one or several in-house trainers/facilitators that would be great in leading the 10X Team Insights program for you and your team/s. If you feel comfortable that this is the case for your business, you are welcome to deliver the 10X Team Insights program yourselves.
In this case, we provide you with the full 10X Insights series. We train you how to implement and deliver the training program successfully, for the best possible team outcomes.
The structure works the same way as the 10X Team Insights program run by our coaches. Your team would meet every month for 90 minutes to review an area of the business, leaving with great learnings, ideas and action items etc. The only difference is rather than facilitated by a 10X expert, you have that expert in-house, supported by us back at 10X.
Speaking/Workshops/Seminars
10X is able to offer customised presentations to fit your individual or team needs and budgets. Presentations on offer include:
Executive Briefings
Working Lunches
Keynote Presentations
Half Day and Full Day Workshops/Seminars
In House Corporate Training
Executive and Personal Retreats
Partnership Summits
Accelerate Success Vouchers
The Accelerate Success website offers information on the NZTE Capability Development Voucher scheme, so pop over to the site and find your local Regional Business Partner. You may be allocated a voucher to pay for up to 50% of the cost of these services with a maximum of $5,000 + GST for each financial year ending 30 June. Please note that you do not have to use a Voucher and you can contact us directly for a fully customised coaching package.